Tony:
Let's start with the Nationals. They won 3 – 0 last night. Bryce Harper hit his 18th home run. Max Scherzer pitched 7 innings, allowed 6 base runners, and struck out 13 Cubs. His ERA on the season is 1.51 and his WHIP is .88. You know what's crazier? It doesn't even seem like he has had a particularly good year. He's just this good.
I forgot to mention yesterday that Bryce Harper hit a dinger on the 26th, making me winner of that board bed. So that's back to back games with home runs for Harper after that uncharacteristic three game hiatus. Harper is now tied with Nelson Cruz for most home runs in the MLB.
Jon Lester was good last night too. He went seven innings and allowed two runs (one earned) and seven hits while matching a season-high 10 strikeouts. Lester also made history. He went 0 for 2 and dropped to 0 for 59 lifetime to move him into sole possession for the longest hitless streak to begin a career, moving past Joey Hamilton (0 for 57) to set the new mark.
The Braves beat the Dodgers 3 – 2. Juan Uribe wen't 0/3 for the Braves and Alberto Callaspo left a runner on base during his only pinch hit opportunity. Starting at 3B, Jacob Turner was 1/3 and in LF Alex Guerrero was 1/4 with a home run for the Dodgers. Guerrero now has 3 home runs in the last 4 games. Talk about a streaky player.
I'm still trying to make sense of the Braves – Dodgers trade. It's been called "the most unremarkable 6 player swap." It seems people think this is about money. It's just that the Dodgers have shown they don't care about money. Uribe was also a huge clubhouse guy who could be valuable down the stretch. Ken Rosenthal brings up some potential reasons, but Like Jay Jaffe, I'm not sure I can make sense of it, other than that Donny Matt wants to go with the young talent at 3B. I would have kept him.
The Reds lost 6 – 4 last night to the Rockies. What a disaster of a season in Cinci. Dueling third basemen Nolan Arenado (10) and Todd Frazier (14) each hit home runs. Not surprisingly no one else hit for the Reds. No one in the lineup was hitting over .300 and 6 players in the starting lineup are hitting .250 or below…
Looking more and more like Cueto may join Hamels on the list of big time accusations at the all-star break. A reported 20 scouts were on hand to watch Cueto pitch against the Giants on May 14, including high-level officials from the Blue Jays and Padres. The Cubs and Cardinals would also figure to make sense, but a trade within the division seems far less likely.
Good news and bad news for the Tribe. Good news: they beat the Rangers 12 – 3. Jason Kipnis was 3/5, falling a home run short of the cycle. His batting average is up to .342. Lonnie Chisenhall, Carlos Santana, and Nick Swisher each homered. And Carlos Carrasco was lights out again. He pitched 8, allowed 7 baserunners, and struck out 8. Josh Hamilton was 1/4 and now sports a .091 batting average (granted, he only has 11 at bats since this was his first series). I wish you would have set that over/under at 100. I think that's the right number (I know you set it at 90 due to the fact that 3 times he has played 89 or 90 games in a season). I think he will finish with 90 some games, so I'll take the over. Put it on the board.
The bad news: that defense is still killing them. Matthew Kory broke it down:
The Indians have the seventh-worst ERA in baseball so you'd think their pitching would be less hot and more hot garbage, but look at their Fielding-Independent Pitching (FIP). If you take the fielding out of it, which is what FIP seeks to do, Cleveland's pitching staff has been seventh-best in baseball. This gap between ERA and FIP is telling us Indians pitchers have done their job effectively while Indians fielders have resembled pinball flippers in both range and sure-handedness.

But maybe FIP isn't your bag. In that case, let's consider the two ways a team can get outs. The first is strikeouts. Indians pitchers have struck out 421 opposing hitters, tops in baseball. So it's not that. The other way is to turn batted balls into outs and, as it turns out, the Indians are, technically speaking, awful at this. This season they've converted 67.5 percent of balls in play into outs. That's worst in baseball. You never want to be worst in baseball in anything, let alone something important like, say, fielding the ball.

In fact, it's even worse than that. The Indians are historically awful at fielding baseballs. Since 1950, only the 2007 Tampa Rays have been worse than the Indians' current 67.5 percent mark. For context, the Royals are best this season at 73.6 percent. The difference between the Indians and Royals is like giving the other team two hits each game. Just giving them extra hits. Extra hits are going to lead to extra runs and (if you play it out to the end) extra sad Cleveland fans and goodness knows there are more than enough of those already.

The 2004 Red Sox famously traded franchise icon Nomar Garciaparra for two lesser hitters in Orlando Cabrera and Doug Mientkiewicz because Theo Epstein felt the team's defense, with Garciaparra at shortstop, would prevent them from being able to win a championship. Cabrera and Mientkiewicz played important roles in strengthening Boston's defense, which helped them win their first World Series win in 86 years. The Indians aren't in the same position at the end of May that Boston was at the trade deadline, but coming into the season Cleveland was picked by many experts to reach the postseason. They might still make it despite their slow start, but unless their defense improves, this does seem awfully unlikely.

The good news is this isn't a fatal flaw. Like any aspect of a club, it can be overcome provided the other aspects are good enough. Last season the Tigers were second to last in turning batted balls into outs but they still made the playoffs, while the Mariners were second best but didn't make the playoffs. Still, it makes intuitive sense that it would be difficult to make the playoffs while consistently getting fewer outs on batted balls than your opponents. Doing so involves likely both an elite offense, and it helps if the pitching staff is particularly good at striking out opposing hitters. Of course, last year's Tigers had both. The Indians have a nice start with their pitching staff, but their offense doesn't yet measure up to the 2014 Tigers. The important point is defense is not destiny, just a component of it.

As for who specifically is at fault for Cleveland's woeful defense … well, the list would be shorter if we ticked off who isn't at fault. Going by UZR (available at FanGraphs.com!), the worst offenders to receive regular playing time are Michael Bourn, Jose Ramirez, Michael Brantley, Carlos Santana, and David Murphy. When you consider that only seven fielders back up the pitcher at any given time, having five very bad ones, even if they are not always playing at the same time, constitutes a lot.

The Indians are stuck with Carlos Santana at first base, unless they want to shift him to DH in place of Nick Swisher. At shortstop, they could call up super-prospect Francisco Lindor to replace Ramirez. We don't have numbers for Lindor, but the scouting reports have been very good so it's relatively safe to assume he would be better than Ramirez. However, unless Lindor can cover the entire outfield, too, the Indians' problems will remain. Brantley is obviously too good a hitter to not play, and the team remains committed to Bourn, who's signed for big money through next season. Unless there are some trades to be made for better defenders, the best the Indians can do might be improving from historically awful to just bad. The thing is, if the offense improves a bit and the pitching staff continues to perform as they have, that might be enough.

Today's fielding stats can be unreliable, especially in small doses, but even so they're more reliable than errors, assists, and fielding percentage. They should be considered and weighed with knowledge of the sample involved and, when possible, compared to what you see on the field yourself. With the Indians though, there shouldn't be much of an argument. They simply don't make enough outs when the ball's put in play.
I brought this up a couple weeks ago, and it doesn't seem like things are getting any better.
The Orioles beat the Astros last night. Jimmy "the Jet" Paredes went 2/4 and STOLE HOME. PAREDES STOLE HOME. I CAN'T BELIEVE THEY DIDN'T SEE HIM! Jimmy is quickly becoming a favorite of mine. Adam Jones also went 2/4. Chris Davis's home run in the 8th won it for the O's, who somehow avoided any Astros late inning heroics. GGGAAAAATTTTIIIISSSS hit his 10th dinger of the year for the Astros.
Rob Neyer notes that the Astros and the Blue James have the same run differential on the season. One of the major differences between the two teams? The Astros' 11-5 record in one-run games is the best in the league, and the Blue Jays' 2-10 record is the second-worst (the woeful A's are 2-13).
Neyer also wrote a "remember when" piece about the Astros as a "mess." He was looking at an Evan Drellich story about Astros management in the Houston Chronicle from last year. Best line from Drellich:
The Astros are firm in their belief that winning will fix everything, but that begets a question of how much buy-in by players and coaches is needed in advance, and how much perception and happiness matter.
What do we know, Kevin? Winning fixes everything (see: The Cavs).
Cliff Corcoran wondered if the Astros or Cardinals have a better shot at maintaining their fast start. While he brings up the 1 run games, he warns us not to dismiss it:
There is some actual performance behind the Astros' success in one-run games. Buoyed by the additions of veteran free agents Luke Gregerson, who is now Houston's closer, and Pat Neshek, Houston has the second-best bullpen ERA in baseball with a 2.10 mark, behind only the Royals' 1.86. Good relief pitching is essential to success in close games, and while both the quality of a bullpen and a team's success in one-run games can be difficult to sustain from year to year, it's not uncommon for that combination to result in a surprise single-season performance. For proof, look at the Orioles in both 2012 and '14.
Or at last year's Royals? His take: the Astros are legitimate contenders. Some of that will depend, I think on the young guys. Will Jon Singleton (.277/.383/.614 with 14 homers in 44 games at Triple A), Lance McCullers, and Carlos Correa (Destroyed Double A.385/.459/.726 & seven home runs in 29 games and is hitting .283/.353/.500 in 68 plate appearances in Triple A) provide a boost?
Do we believe in being "hot?" If so, teams should trade for Cole Hamels now:
Hamels has produced a 1.53 ERA in his last four starts and shut down the Nationals and Rockies, two of the National League's top offensive clubs, in his last two. What's more, recent history suggests that once he gets on a roll, he doesn't stop.

In 2013, Hamels had a 2.96 ERA in his final 21 starts. In '14, he missed most of April due to left biceps tendinitis, struggled early, then had a 2.06 ERA in his final 27 starts.
Nick Cage Award is a good one. Also tough to figure out. Drew suggested Kip Wells, Jason Bergman, or Jason Marquis. My first thought was Livan Hernandez! 3189 innings pitched, 4.44 ERA, 1.44 WHIP, and 1.85 K/BB. Sindey Ponson also came to mind: 1760 innings pitched, 5.03 ERA, 1.48 WHIP, 1.69 K/BB. But since longest mattered, I don't think Ponson trumps Livan.
I tried to run a search on Baseball Reference for guys with over 3000 IP, and sorted by ERA. I don't have a subscription, so I couldn't see the top 10. But the highest ERA is 4.44, which has to be out boy Livan.
I don't know if I could be any happier with myself. You could, of course, drop the innings minimum. 2000 is still a lot. But if we are naming this after Nick Cage… Player had to have been pretty prodigious, so I'm sticking by my guy. Who have you come up with?
If we are going to keep delving into odd and unusual records, I expect you to buy "The SABR Baseball List and Record Book: Baseball's Most Fascinating Records and Unusual Statistics." I think it could be of great help.
The Mets beat the Phillies 7 – 0 last night. Thor was a god among men. Syndergaard pitched six-hit ball into the eighth inning and connected for his first major league home run. Thor is the first rookie in Mets history to strike out at least five batters in each of his first four starts. He also went 3 for 3 at the plate, tying a franchise record for hits in a game by a pitcher – matched by Jacob deGrom earlier this month.
The Mariners beat the Rays behind King Felix. Hernandez pitched a four-hitter to become the major's first eight-game winner. His ERA now rests below 2.00, at 1.91. Nelson Cruz hit is 18th home run, keeping him even with Harper. Unfortunately it was MY BOY Brad Boxberger who gave up the game winning home run to Cruz. Chris Archer had been dazzling for the Rays. Archer tied a career high with 12 strikeouts and had stretches where he retired 12 and 11 batters in a row. Archer allowed just two runners, coming on a first-inning double by Seth Smith and Logan Morrison's single in the fifth. His ERA is 2.12 on the season.
It is still hard to pitch to Pujols in situations like that. They only did because it was better than pitching to Mike Trout. (Rock – Padres – Hard Place).
Scoring walk-offs is interesting… Here are the relevant rules, some linked videos of examples, a couple theoretical examples, and a summary:
Sec. 4.11(c) of MLB's official rules states:
If the home team scores the winning run in its half of the ninth inning (or its half of an extra inning after a tie), the game ends immediately when the winning run is scored. EXCEPTION: If the last batter in a game hits a home run out of the playing field, the batter-runner and all runners on base are permitted to score, in accordance with the base-running rules, and the game ends when the batter-runner touches home plate.
Official Baseball Rule 10.06(f):
Subject to the provisions of Rule 10.06(g), when a batter ends a game with a safe hit that drives in as many runs as are necessary to put his team in the lead, the official scorer shall credit such batter with only as many bases on his hit as are advanced by the runner who scores the winning run, and then only if the batter runs out his hit for as many bases as are advanced by the runner who scores the winning run.

Comment: The official scorer shall apply this rule even when the batter is theoretically entitled to more bases because of being awarded an "automatic" extra-base hit under various provisions of Rules 6.09 and 7.05.
So, a walk off home run is a home run… Unless of course the batter doesn't run it out. Then you get Robin Ventura's "Grand Slam Single." A walk off "ground rule double" where the batter gets mobbed before reaching second? Just a single.
If you're not the runner who scored the winning run, you're going to want to run everything out anyway, for fear of encountering "Merkle's Boner." Fred Merkle was on first base when Al Bidwell hit a game winning single into the outfield. When the fans rushed the field after the winning run was scored, Merkle turned around before reaching second and headed to the dugout. When the ball was tossed to second by Solly Hofman, Merkle was out, run does not score.
Basically, whatever the winning run got, you can get… Meaning with a guy on 1st, you can have a "walk off" triple. So, if there is a guy on 3rd, unless you hit a home run, you can only get a single.
So, let's cover some situations to illustrate:
runner on 3rd; batter hits a line drive in the corner – no matter what base he gets to, he can only get a single.
runner on 2nd; batter hits a ball in the corner, runner scores and batter stops at 1st – batter only gets a single
runner on 2nd; batter hits a ball in the gap, runner scores and batter makes it to second before the runner scores- batter gets a double (see: Addison Russell two nights ago).
But, you can't just go swipe a extra bag to pad stats (I know that's what you were thinking). If a guy is on second, and you hit a single, but then advance on the throw home, still just a single.
Make sense?
Kevin:
Good info today Z.  Loved Drew's additions on the worst pitcher list.  We could extend this trip down weird trivia lane by extending to worst hitter?  Nominations???
I was thinking Ponsoon myself.  One other that came to mind was….LIMA TIME!!!!
1994
21
DET
AL
0
1
.000

13.50

3
1
1
0
0

0

6.2
11
10
10
2
3
1
7
0
0
1
34
38

6.28

2.100
14.9
2.7
4.1
9.5
2.33
1995
22
DET
AL
3
9
.250

6.11

15
15
0
0
0

0

73.2
85
52
50
10
18
4
37
4
0
5
320
79

4.76

1.398
10.4
1.2
2.2
4.5
2.06
1996
23
DET
AL
5
6
.455

5.70

39
4
15
0
0

3

72.2
87
48
46
13
22
4
59
5
0
3
329
90

4.99

1.500
10.8
1.6
2.7
7.3
2.68
1997
24
HOU
NL
1
6
.143

5.28

52
1
15
0
0

2

75.0
79
45
44
9
16
2
63
5
0
2
321
76

3.83

1.267
9.5
1.1
1.9
7.6
3.94
1998
25
HOU
NL
16
8
.667

3.70

33
33
0
3
1

0

233.1
229
100
96
34
32
1
169
7
0
4
950
111

4.09

1.119
8.8
1.3
1.2
6.5
5.28
1999

 ★

26
HOU
NL
21
10
.677

3.58

35
35
0
3
0

0

246.1
256
108
98
30
44
2
187
2
0
8
1024
125

3.76

1.218
9.4
1.1
1.6
6.8
4.25
AS,CYA-4
2000
27
HOU
NL
7
16
.304

6.65

33
33
0
0
0

0

196.1
251
152
145
48
68
3
124
2
0
3
895
75

6.12

1.625
11.5
2.2
3.1
5.7
1.82
2001
28
TOT
MLB
6
12
.333

5.54

32
27
3
2
0

0

165.2
197
114
102
35
38
3
84
9
0
4
719
79

5.63

1.419
10.7
1.9
2.1
4.6
2.21
2001
28
HOU
NL
1
2
.333

7.30

14
9
3
0
0

0

53.0
77
48
43
12
16
1
41
5
0
3
249
64

5.63

1.755
13.1
2.0
2.7
7.0
2.56
2001
28
DET
AL
5
10
.333

4.71

18
18
0
2
0

0

112.2
120
66
59
23
22
2
43
4
0
1
470
91

5.63

1.260
9.6
1.8
1.8
3.4
1.95
2002
29
DET
AL
4
6
.400

7.77

20
12
3
0
0

0

68.1
86
60
59
12
21
0
33
2
0
2
304
55

5.29

1.566
11.3
1.6
2.8
4.3
1.57
2003
30
KCR
AL
8
3
.727

4.91

14
14
0
0
0

0

73.1
80
40
40
7
26
0
32
5
2
2
321
100

4.67

1.445
9.8
0.9
3.2
3.9
1.23
2004
31
LAD
NL
13
5
.722

4.07

36
24
3
0
0

0

170.1
178
81
77
33
34
6
93
1
0
3
702
101

5.09

1.245
9.4
1.7
1.8
4.9
2.74
2005
32
KCR
AL
5
16
.238

6.99

32
32
0
1
0

0

168.2
219
140
131
31
61
1
80
9
0
5
780
63

5.71

1.660
11.7
1.7
3.3
4.3
1.31
2006
33
NYM
NL
0
4
.000

9.87

4
4
0
0
0

0

17.1
25
22
19
3
10
0
12
2
1
1
91
45

6.09

2.019
13.0
1.6
5.2
6.2
1.20
13 Yrs
89
102
.466
5.26
348
235
40
9
1

5

1567.2
1783
972
917
267
393
27
980
53
3
43
6790
85
4.91
1.388
10.2
1.5
2.3
5.6
2.49
We will have to give an unofficial vote on the winner of this year's Nick Cage.  Any other hollywood based awards we should be giving out?  Love that as a potential awards theme.  We should keep it in mind for midseason awards (or perhaps quarter season awards extravaganza over the weekend?
You touched on a lot of subjects I was ready to get into.  Hamilton finally gets a hit.  What the hell happened there? The Angels basically paid a lot of money to have him leave.  Anything deeper beyond cocaine and booze?  Or was that simply enough to need him gone?  I'm tempted to keep linking the HR Derby every time we talk about Josh , because it was just that impressive.
Rockies 3B Nolan Arenado hit a 3 run homer.  He's having a great year, batting .331 with 10 Homeruns.  Sadly, he's only 5th in all star-voting. We should be talking more about this guy? His manager gave him the least enthusiastic plug ever:
"He'll be in the All-Star Game, I believe — one way or another," manager Walt Weiss said. "That's my campaign speech."
Given how close your name is to the world's most famous Meth Maker, you've gotta come a lot harder.  Remember, you are the one that knocks!
Harper would've won you the bet, and I lost a million hypothetical dollars (you didn't take this as a board wager).  More importantly, Lester still didn't attempt a pickoff.  Since his last one in mid April where he airmailed a throw to first, he's not tried it again.  At what point do runners just become brazen? They should be leading off halfway to second.  How is this not a bigger story???? He's got the throw to first base yips! Free pass to second every time.  This is worth monitoring going forward.
Speaking of gambles, I've got a betting theory I want to try out.  What if you just parlayed 2-3 aces every day in a wager?
Today's aces: Shelby Miller (+125), Corey Kluber(-117), Chris Sale (-130).
On a 100 dollar bet, this would win us 638 dollars.  Pretty good investment.
Gotta run today.  Trying to get the classroom cleaned so I can be ready for summer.  Excited to start getting some takes about the twins and their surprisingly  good start.  Get at it Drew!
Peace!
Tony: 
You have the worst memory every. Ben Lindbergh covered the Lester thing to death and I've linked to you already. He runs sims and such, so read away. In the end, he is a good pitcher, who doesn't put a lot of guys on base, so there aren't as many opportunities as you'd think. Especially when you consider how many of those guys can't run at all. But, to your point, it becomes a big issue against quick, good teams, like the Royals and the Cardinals… (See: Lester in the playoffs… also covered in aforementioned article).
Lima was bad, but only for 1/2 the time of Livan. You need to propose an alternative innings minimum if you won't concede this to me.
Nolan Arenado is good. But he isn't as good as Todd Frazier or Josh Donaldson. So right in that second tier with Kyle Seager and Adrian Beltre? Is Jimmy Paredes in that second tier now!? Matt Carpenter is close. Maybe he and Jimmy constitute the 3rd tier? Where does Evan Langoria fit at this point? And what do you do with my boy Anthony Rendon. Shake off the injury and put him in the 1st? Worry about the injury and call him third? Split the difference?
Parlaying the aces isn't a bad play. Especially depending on who they are facing… Should we put this into action? I'll go 50/50 with you on any bets we agree on in the roundup.
I think they cut ties with Hamilton because it wasn't working, no stats, drugs, etc. The idea being, perhaps, for some reason, he can only keep his sh*t together in Texas… But, I'm with you. They are trotting scrubs out there right now and still paying the bulk of Josh's paycheck. Why not keep him and hope? Or at least keep him from helping the Rangers…
I started with Bryce Harper, let's end with Bryce Harper.
First off, I didn't realize how big he got over the offseason:
and…
Which, I guess explains a lot…
These home runs look like something out of the Home Run Derby!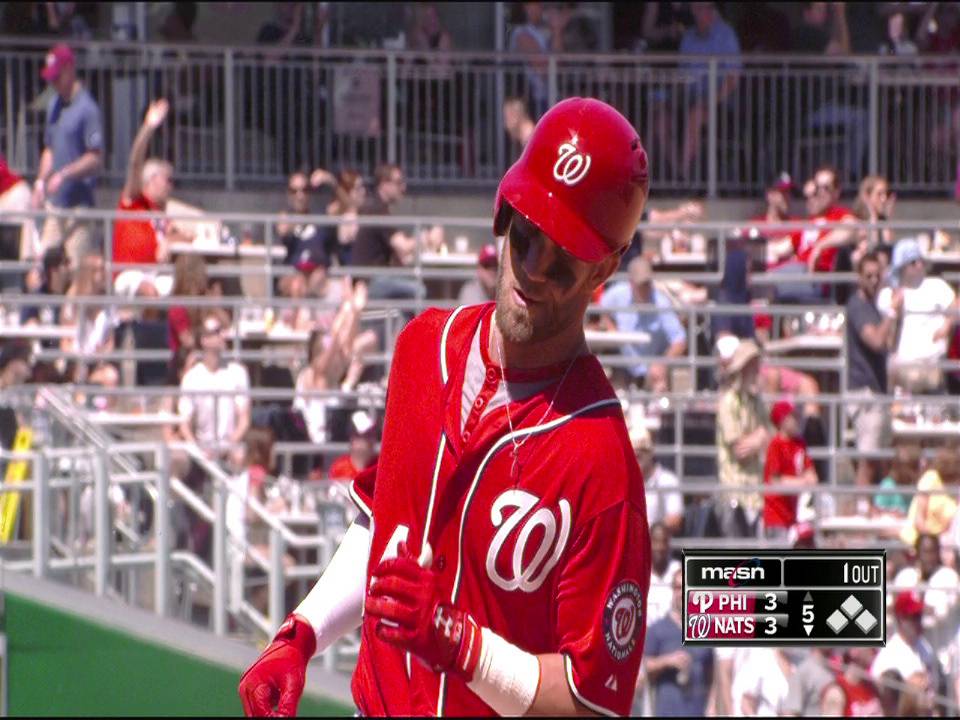 Sometimes, when he pops one up, it STILL goes out. TO THE OPPOSITE FIELD. Check out his reaction here:
Apparently he has also gotten patient at the plate absurdly quickly. You can read all about it (Once again, thank you Grantland.). So, while Mike Trout decided to start swinging at first pitches, Bryce took the opposite approach.
Article has a nice comparison between Bryce and Ted Williams too. Ted's .406 year, they year that I still think is the best statistical, non-roid connected year in history, was when he was 22. Doesn't look like Bryce will hit .406, but he has posted an OPS+ of 224 so far this year. Ted is the only other 22 year old every to post an OPS+ of over 200. His was 235 in 1941.